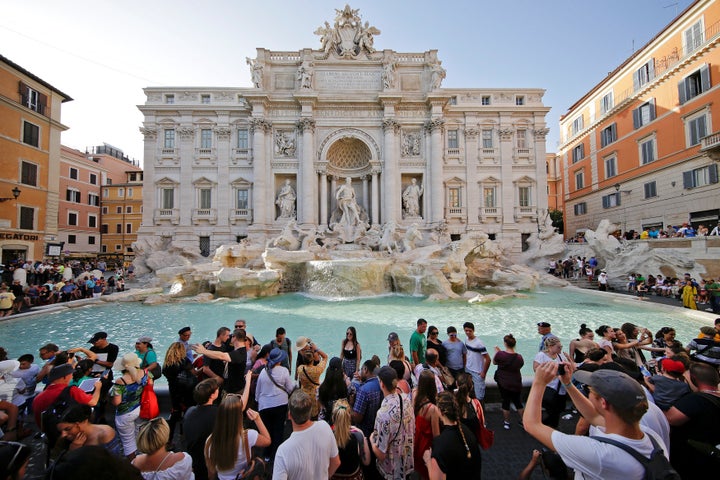 Continuous overcrowding in few of Europe's most sought after tourism hotspots is giving rise to angry backlash, starting from polite protests to "Go Home" graffitis and even physical intimidations.
Across southern Europe, from the choked boulevards of Gaudi's Barcelona to the swarms of cruise liners dropping passengers into Croatia's medieval Dubrovnik, residents are complaining that a sharp rise in tourism is making life unbearable.
This backlash from residents has sparked concerns for one of the region's biggest economic drivers and prompted authorities to act.
Rome is considering limiting visitor numbers to parts of the eternal city, such as the Trevi fountain. Dubrovnik also plans to limit cruise ships. Barcelona is planning a new tourism tax. In Venice last month, residents protested against uncontrolled tourism. They did so behind a banner: "My future is Venice." Youth activists plan a similar protest in San Sebastián, northern Spain, later this month.
Spanish Prime Minister Mariano Rajoy had to intervene this week after some anti-tourist anger turned physical. A video showed masked activists setting off flares outside a restaurant full of tourists on the island of Palma de Majorca. They then entered the restaurant and threw confetti at frightened diners. Similar videos were released this week under the slogan "tourism kills neighborhoods." In one, several hooded individuals stop a tourist bus in Barcelona, slashing the tires and spray-painting the windscreen.
Tourism in southern Europe has surged over the past two years, partly because visitors are opting for the region over other Mediterranean destinations where security fears are a concern, such as Tunisia, Egypt and Turkey.
Resident anger has prompted Italian authorities to monitor tourists more closely, with special patrols in Rome's historic center and fines for people who paddle in the fountains.
Authorities in the town of Dubrovnik are considering cutting the limit on daily visits by cruise liners to two from up to five currently, due to concerns of overcrowding at the UNESCO World Heritage site. More than 5,000 tourists from cruise liners flocked to the walled town in a single day in June adding to thousands vacationing in the city. UNESCO has even warned that Dubrovnik's World Heritage status is at risk.
"It must never happen again that more than two cruise ships come to the town at the same moment," Dubrovnik Mayor Mato Frankovic said recently. Croatia overall saw a 10.5 percent jump in tourists last month from a year earlier, tourism association data shows.
For its part, Cruise Lines International Association says it expects more tourism restrictions in some places and that it is committed to sustainable tourism.
However, Portugal expects a record 27 million visitors this year and Greece a record 28 million, but neither has seen a big backlash. In France, too, relations between tourists and residents appear good.