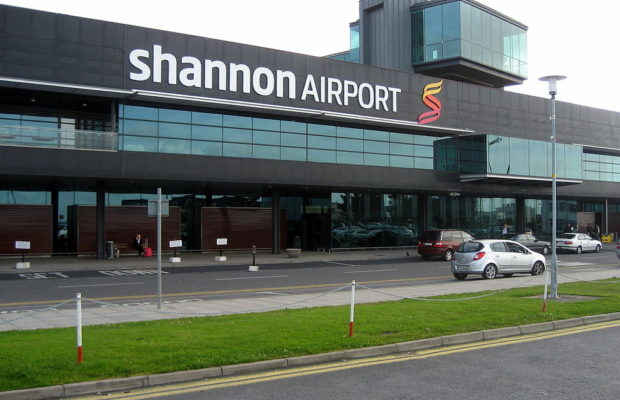 The finishing line for one of Ireland's most unique mass participation events, the Shannon Airport Runway Run, was reached in a fitting finale as 1,300 people pounded out the 5.6km course in the earliest hour of Saturday morning.
Clad in the run's official pink t-shirts, there was a great sense of excitement as runners and walkers packed tightly at the starting tape shortly after midnight for the fifth and final hosting of the event.
Conditions were perfect, with the fresh breeze cooling an otherwise balmy night for participants who had already been put through their paces by Richie (Clifford) The Motivator.
The level course, as ever, proved inviting for all levels of fitness, with participants from teenagers to pensioners enjoying the experience – one made all the better by the €20k plus funds it will have raised for Shannon Group's designated charities for 2019, Clare Crusaders and Share A Dream Foundation.
Looking back on the five years on Friday night, Shannon Airport Managing Director Andrew Murphy said that it has been a brilliant experience all round. "We had over 7,000 participants across the five years and some enjoyed it so much that they did all five years. It was a great run, a great event, one enjoyed immensely by participants and by us in running it.
"It's also a good way to promote healthy activity but, above all, it has raised over €100,000 for local charities. This year the beneficiaries are Clare Crusaders and Share A Dream Foundation and it will be money put to fantastic use supporting children who need that support."
Participants gave the event a thumbs-up, among them Clare Rose of Tralee contestant Clara Burke from Cooraclare. "I had never run it before and I found out it was the final year and I just had to do it. It was really cool to walk down the runway in Shannon. I met loads of people, had great fun and it was for two great charities. .
Warm-up king for the five years of the event Richie The Motivator said it was a perfect swan song. "It's been an incredible five years. I'm looking at people for last five years from all counties in Ireland. It's been a fabulous gig."
Organiser in chief this year, Shannon Airport Operations Director Niall Maloney praised the staff for their contribution. "We went out at the top with a great event but it has been a fantastic five years. We've raised a lot of money for charities with the event and there has been a brilliant atmosphere and sense of fun each and every year and this one was no different.
"But events like this can't happen without the support of airport staff. They worked so hard to make sure the event went as well as it did tonight. For example, when everyone else was gone home, we had a team of our people out combing the runway to make sure not a single piece of debris was left participants. We'll miss the event and participants across the country will miss it. The big challenge for us now is what are we going to do for 2019. Whatever it is, knowing Shannon, it will be fun."