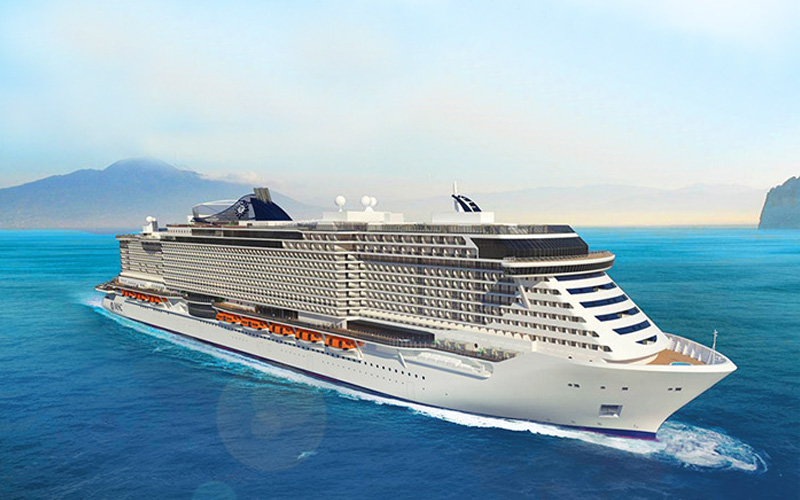 MSC Seaside, the world's newest high-tech luxury cruise ship was unveiled that enable the passengers to have walk on waters.
This luxury cruise ship will build with an innovative "beach condo" style structure. The stylish new flagship of the MSC fleet was officially welcomed by the cruise line in a flag ceremony today at the Fincanteri shipyard in Monfalcone, marking its handover from the Italian shipmaker, where the company also announced the launch of its Seaside EVO ships, two new vessels to be delivered in 2021 and 2023.
Both ships will be bigger than MSC Seaside, with a length of 339 metres, which is offering more cabins that can host up to 5,646 passengers, and be equipped with the latest advanced "state-of-the-art" environmental technology that meet the "highest" and "strictest" port environment standards.
The unique design of MSC Seaside features are a wrap-around seafront promenade which are dubbed to be the widest on any ship ever built in tracing the perimeter of the 323m-long ship, dotted by a series of bars and restaurants, while its two 40m-long glass-floored catwalks have been designed to simulate the feeling of walking on water.
There are other vertigo-inducing highlights include a glass-bottomed pathway (known as the Bridge of Sighs) at Deck 16 where guests can capture never-before-seen views from 40 metres above the ocean, as well as two panoramic glass lifts offering 360-degree vistas while transporting guests between the ship's main pool areas and other decks.
It is designed to "bring guests closer to the sea than ever before", more than 75 per cent of the 5,119-capacity passenger ship's cabins offer ocean views, including a selection of adaptable modular cabins that can accommodate up to 10 guests.
The new ship by MSC Seaside also houses the most interactive water park at sea, built with five attractions including the first-ever "slideboarding" facility, featuring 160m-long duelling waterslides. Other entertainment options on offer include the two longest zip lines at sea, each stretching 105 metres, a full-size bowling alley, an interactive 5D cinema and an F1 racing simulator. The cruise line of MSC Seaside has also worked with several digital companies including Samsung and Hewlett Packard to deliver what's said to be cruising industry's "largest all-encompassing digital innovation programme", which will be incorporated across the cruise line's other upcoming nine new ships.