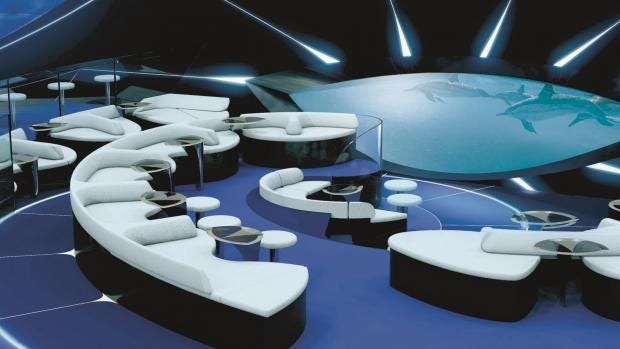 Ponant, a French company is looking forward to transform the very appearance of the basements of cruise vessels thanks to its grand plans of introducing the world's very first underwater lounge in its hull. The new Le Lapérouse cruise liner, soon would be enriched with a luxurious passenger lounge that would mark a sharp contrast to the conventional basements of cruise vessels.
This lounge, known as the Blue Eye would be designed like a unique one resembling the Bond style.
The company has described it as a 'multi sensory space' that would be located underneath the water line on the first of the new fleet of Ponant. It is scheduled to set sail in the year 2018.
Jacques Rougerie, the architect is planning to establish a futuristic feel in the 75 square metre space and this would be capable of accommodating up to 40 people.
The interiors of this lounge would exhibit white curves of shaped resin that sweeps down from the stairs and also around the seating, flanked by a ridged ceiling and mirrored panels. Murals of whales, dolphins and jellyfish would adorn the room. In addition, the guests would be able to view the aquatic world on two large 1.6 m x 3.4 m curved potholes.
Outside these portholes, non-intrusive underwater lights would be installed to permit the observation of the seabed and also of photo-luminescent fishes and plant life.
These lights are uniquely designed to make sure that the marine biosphere is not harmed in any way. High resolution digital screens would be dotting the lounge. And, live aquatic images filmed by underwater cameras placed at the front, back and centre of the hull of the ship would be arranged.
And, if guests prefer to watch it all from the comfort of their rooms, the live feed would also be made available on cabin televisions.
Guests would also be able to experience the sound of the sea.
This would be made possible via hydrophones. Hydrophones are special microphones that can detect sound waves under water. They have been developed in consultation with different specialists from the French Research Institute for the Exploitation of the Sea (IFREMER) and would be integrated beneath the keel.
The deep sea sounds would be captured across a five kilometer radius and would be streamed out over a 3D sound system.
And, for the people who are more adventurous, the cruise liner would also provide them with a high-tech 'body listening' mechanism enabled sofas. These would vibrate in response to the sea sounds, promising guests the ultimate sophistication of being one with their fishy companions.
Jacques Rougerie, the architect said that the state-of-the-art technology permits guests to be akin to modern-day explorers.
This is because the guests would be able to witness the flora and fauna of the aquatic universe that is so beautiful and diverse.