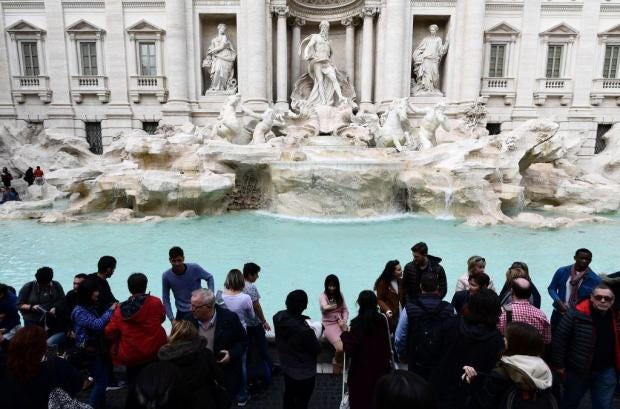 Following the rules of Venice to tackle unruly tourists in Italy, the capital city has followed suit. Rome announced a ban on eating and drinking around its famous fountains.
About 40 fountains – those flagged as having historical significance – are affected. Tourists will no longer be able to grab a gelato and sit by the Piazza Navona till 31 October.
Eating isn't the only thing people are no longer allowed to do around the fountains. Getting in them, sitting on them, giving pets a drink and throwing things into the water has also been forbidden – although throwing coins is still allowed, meaning the tradition of lobbing money into the Trevi Fountain, which is said to ensure you'll return to Rome, is still possible.
Piazza del Popolo, Piazza di Spagna and Piazza Barberini are some of the affected fountains along with Trevi Fountain and Piazza Navona. Whoever breaks the rule will be fined up to €240.
The move is Rome's latest attempt to control loutish behaviour from its visitors. In some earlier incidents, tourists even tried to bath in the fountains and defecate in the ancient monuments. Breaking into the Colosseum also came to news.
Raggi said: "The beauty of Rome must be respected by everyone."