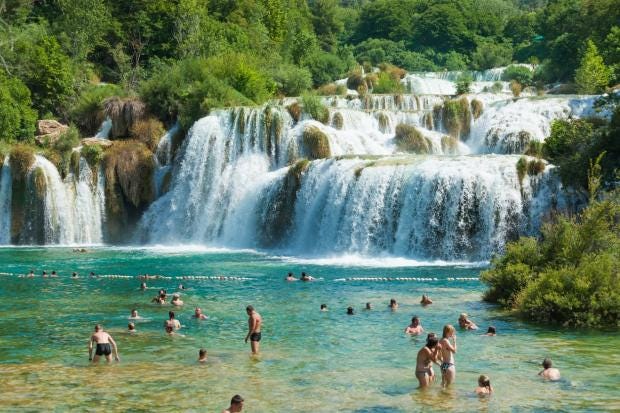 Access to one of Croatia's most beautiful – and Instagrammable – destinations will now be under tight control as announced by the officials.
Visitors to the Skradinski buk waterfall in Dalmatia's Krka National Park will now be limited up to 10,000 at a time due to concerns over safety and damage to the landscape. This new rule will be applicable just before peak tourist season.
Skradinski buk, which covers about 2,625 feet, has a large pool for swimming surrounded by three waterfalls. It has become a huge draw for tourists, especially during the warmer months. So when the waterfalls are at the capacity, the tourists will be requested to wait and can direct their journey to explore the other parts.
The changes were announced last week by the director of Krka National Park, Krešimir Šakić, who explained the move was vital to protect the falls. "While visitors wait to visit Skradinski buk, they will able to visit instructive hiking trails and viewpoints and will able to enjoy the sacred heritage of Krka," Šakić said.
Last year's disastrous season served as a major lesson for the Croatian park officials. Visitors to Plitvice National Park last summer caused huge damage when they veered off designated pathways at the UNESCO World Heritage site, just to click better photos. Croatia's oldest national park, Plitvice is thus now at the risk of losing its UNESCO status.