DUBAI - Sustainability, affordability, efficiency, and intramodal are key principals for the growth of the travel industry for decades to come.
This was stated by Paul Griffiths, Chief Executive Officer of Dubai Airports Corporation while delivering a keynote address titled:

"The Future of Aviation Infrastructure"

at the CAPA Middle East & Africa Aviation Summit at the Dubai World Trade Centre on Monday.
"When planning new infrastructure, there are a number of core principals which I think need to get prominences such as sustainability, affordability, efficiency, and intramodal. If we follow these principles, we will be aiming to shake the growth of the travel industry for decades to come."
Mentioning the DXB new airport experience revolutionary, he said,

"We believe this is sustainable."

He added that the site of the Dubai World Central is accommodating something like 240 million passengers in the future and each of those passengers having an excellent and personalised experience.
He said,

"People want more customised solutions, and they want someone who talks to them and listens to them. So, combining those ideas of technology with a personal touch is the ways forward."
Griffiths also mentioned that the hub model is the right model and sustainable model. "

We continue to provide a competitive hub in the Middle East and take advantage of our strategic location."
Regarding customer experience, he said technology makes the transformation, but it's a very human problem that can end up slowing the whole things down at the airports.
"If we just see an end to the various documentation required to complete the journey, consolidate that data into a single go and don't go decision point requirements.
"We need a seamless end to end solution which can only achieve if we actually decide and adopt the global standard. We need another an IATA initiative to make a global document of travel into a reality,"

he added.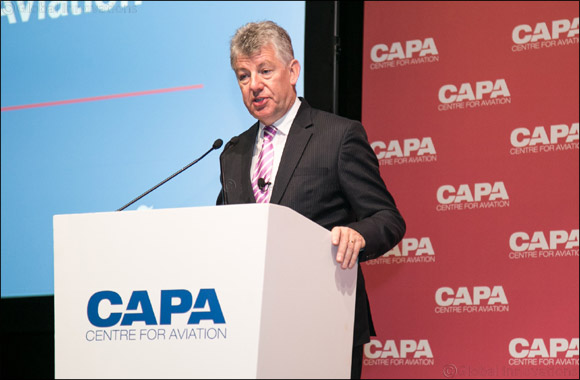 Earlier, Peter Harbison, Executive Chairman, CAPA – Centre for Aviation, in his presentation focused on the outlook of the aviation industry by mentioning the good, the bad and the ugly news. Harbison talked about the changing Middle East aviation profile. Finally, he put the spotlight on Africa and said the potential is still waiting at the station.
He talked about the performance and strategies of key Middle East carriers. He said while the rest of the world is growing steadily/rapidly, the Middle East has stalled. But Emirates airline clearly has no plans to a standstill.

"The airline, following its remarkable expansion earlier this century, has tapered its growth recently,"

he explained.
DXB's growth depends heavily on Emirates airline, he said, adding that Emirates and flydubai between them account for 80% of seats at DXB.
He said Saudia is growing steadily and highly focused on the route network. Regarding Africa, he said there is discouraging outlook as the fleet confined by limited investment – an ageing fleet and few orders. North Africa is a similar story. Again, not even enough orders for replacement, let alone expansion.
Talking about Africa's success story, he mentioned Ethiopian. Ethiopian has long since overtaken Kenya Airways as East Africa's major long haul hub.