World-renowned artists Antonio Dominguez de Haro and Romero Britto announced today a joint exhibition at Four Seasons Hotel Miami that will open prior to Art Basel Miami Beach. The exhibition, Underwater Dreams to Life in Color, will be open to the public from November 28, 2016 through early 2017.
Set to be a colourful affair, the show will feature eight magnificent underwater paintings by Dominguez de Haro as well as a number of pieces by Britto, complementing the existing multi-million-dollar Four Seasons collection. The exhibition will be a juxtaposition of the Spanish artist's romanticism and dreamlike state and the distinctly pop-art style of Britto. Painting from a visual and sense-oriented snapshot of the marine life he observed, Dominguez de Haro's renditions are unique, layered with memory and imagination. His works will include Origen and Spring, a painting that is permanently displayed within the Hotel, as well as a new piece Beginning of Life, inspired by the world's great oceans. Britto's portrait of Antonio's daughter Isabel will be one of the highlight pieces in the show. His works, such as that of President John F. Kennedy and First Lady Jacqueline Kennedy have previously sold at Sotheby's for USD 250,000 and his Elton John portrait for USD 162,500. He is renowned for his previous documentation of notables Dylan Lauren, Prince Albert and Charlene of Monaco, Alina Shriver, Ava Roosevelt and more.
"Life is like the oceans that run together to form one big ocean. Likewise, people's energies attract to each other to join together. Romero Britto, who I am collaborating with on this project, is prolific with colour, light beauty, balance and passion. This partnership brings us closer together and toward our mutual deep love of art," says Antonio Dominguez de Haro of the exhibit and collaboration.
"I admire Antonio's art because of his use of colours, his love for the sea and its beauty. I think Antonio gets inspired by what is beautiful in life for him, and this is what inspires me too," says Britto. Of his portrait of Isabel, he says, "I truly enjoy painting portraits – painting the collector into my story and for me as the artist it's a very special connection that goes beyond generations and time."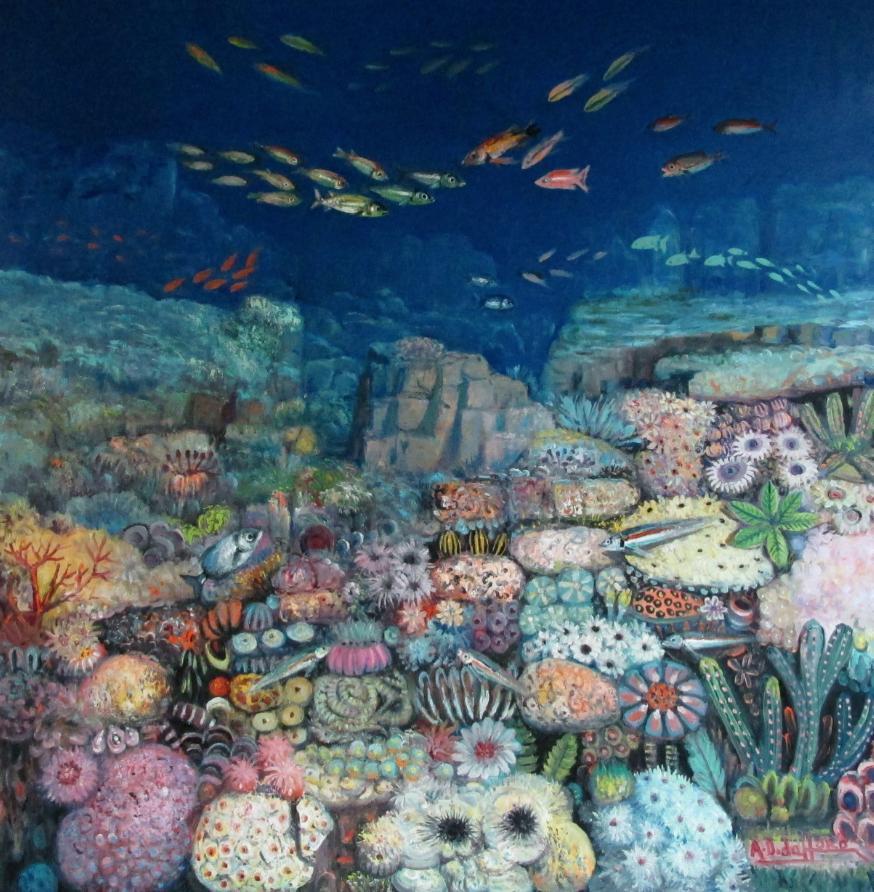 Heralded as a national treasure of Spain, Dominguez de Haro has an avenue named after him in Costa de Sol in his native Spain. He has spent more than 70 years capturing and painting the beauty and lyricism of the flora and fauna of the deep seas – giving a fantastical glimpse into the mysterious world under water at a time when it was not as accessible as it is today. Most recently, Dominguez de Haro's paintings have emerged with a more intense vision, tempered by compassion and sensitivity – this time with a lens on his interior life. Profoundly affected by a life-altering event, Dominguez de Haro delved into the majestic seas and oceans and renders that world with a meticulous and holistic approach to painting, inspiring conservation of the earth and oceans through his work.
Brazilian-born and Miami-made, Britto is an international artist that uses vibrant, bold and colourful patterns to reflect his optimistic view of the world around him. Britto's work has created a visual language of hope and happiness all on its own that is relatable to, and above all, inspiring millions. Self-taught at an early age, Britto painted on scraps of cardboard paper or any medium he could find before coming into his own and traveling to Paris, where he was introduced to the works of Matisse and Picasso. His appreciation of these masters influenced him to create a distinct style that The New York Times said "exudes warmth, optimism and love."